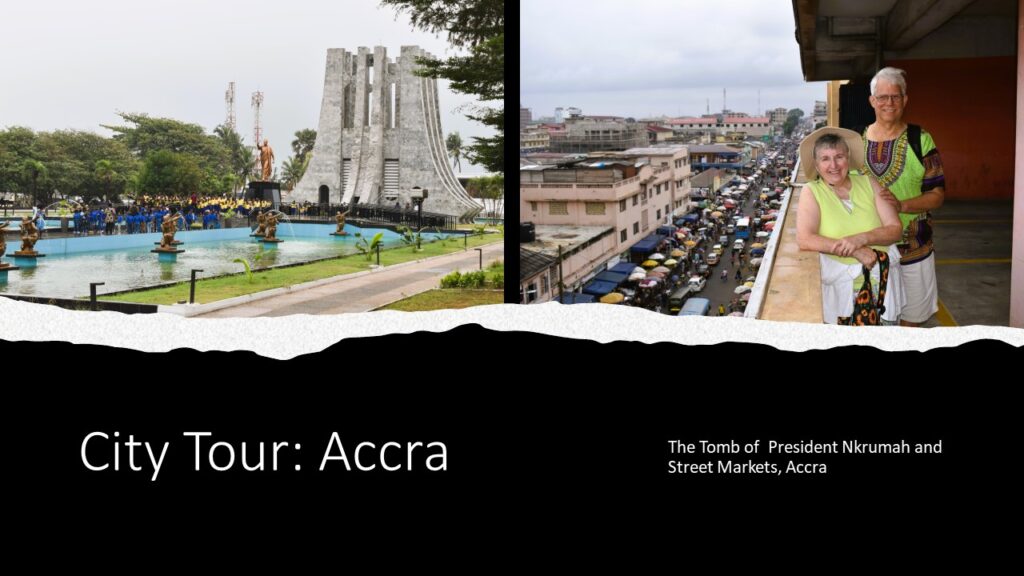 On the second day of our Black and Abroad Ghana Tour, we woke refreshed at the Hotel Motenpick in the center of Ghana's capital, Accra. We stepped into the breakfast buffet by 7 a.m., feasting on an amazing spread that included almost everything you could imagine for the first meal of the day. I selected oatmeal with cinnamon and honey, scrambled eggs with potatoes, grilled vegetables and orange slices, jicama and pineapple, topped off with green tea. Well-nourished, we set off at 8:30 for our "City Tour." The day proved to be a kaleidoscope of colors and activities, including visiting markets, purchasing cloth, learning to drum and learning about the early history of Ghana.
A photographer joined our group who captured our experiences with finesse. We were instructed to only take pictures of the people if we asked permission first. Sometimes, our guide told us tourists take pictures and post them on social media portraying a false view of poverty. He said the people of Ghana are hard-working people. They don't want us to communicate something that isn't true.
I've thought about this a lot as the images of Accra swim in my mind. What did you expect, our guide asked at dinner the first night. Did your preconceived notions of Africa match the reality? Well, I said, I looked at the pictures online of Accra, seeing a modern city, so yes, it's what I expected.
But really, before booking this trip, I must ask myself what was my impression of Africa over the years? Largely, I must admit a vast and diverse unknown. A history of tribes and dark people, developing civilizations through the common era morphing into the period of European colonization, and then independence, starting slowly and spreading throughout the continent. I remember stories of apartheid in my youth and celebrating the liberation of the people of South Africa and deeply inspirational stories of Nelson Mandela. I remember vaguely stories of newly liberated countries beginning again with self-rule after European domination. As a mediator, I've marveled at the work of reconciliation after colonial rule. I've known several African immigrants in my church and bits and pieces of their Africa. I also imagined deserts, savannahs and rains forests with animals I've only known in zoos. Mostly, I probably haven't thought much about Africa in my life. Developed or developing? Rich or poor? Democratic or Socialist? I admit the complexity of the many countries are beyond my knowledge.
Now, I am here to focus on Ghana. Ghana, because many African-Americans' ancestors originated from this region through the slave trade. And on this second day of our tour, we traveled through the streets to the market. Our guides took us up high to look down on city streets lined with umbrellas and vendors selling everything you can imagine, along with fresh fruits and vegetables. Think permanent farmer markets that we enjoy only during summer months where I live in Springfield, Ohio. On one corner a keyboardist and drummer provided music for the crowd, amplified through speakers, with vocals we could hear at the building top. Women walk with large metal bowls on their heads, rather than carrying shopping bags. Their purchases are placed in the bowl to be carried back home. Many also carry items to sell in the head bowls.
We followed our guide, meandering among many stands and eventually into an indoor market. There we met Zia, a woman selling Ghanaian high-quality cloth, GDP. They encouraged us to select fabric. Later a seamstress would visit our hotel to measure us for a custom-made outfit. We perused so many bright colors and patterns, stacked on the shelves of the small cubicle, and my husband and I selected a colorful purple and green pattern, planning to arrange for a shirt for him and matching dress for me.
Next, we visited an artisan's market. We were ushered into a small stall where drums and masks lined the walls. We sat down on chairs, and soon a group of men joined us, sitting across, introducing themselves as northern Africans. They picked up the beautifully crafted drums and began to perform. My body relaxed into the primordial rhythms that have calmed and communicated for centuries.
After their performance, they passed the drums to us for an impromptu lesson, instructing us in simple beats. Both hands, tapping twice on the front of the drum, then a one-handed rap in the center. Then four taps followed by two raps. We rotated our new rhythms, following him into the beats. He signaled kind approval and delight at what sounded to me as our nearly flawless performance (or not). I wanted to buy one of these drums, but instead watched as Keita, our group member who is a musician and professor at Clark University in Atlanta, negotiated the purchase of a large $1,000 drum, about $100 US dollars.
What kept me from buying one? Perhaps the unknown shipping cost, my instrument acquisition tendencies which fill our house with quite a few instruments I don't play and/or my husband's less than enthusiastic response all conspired to hold me back. It is the one thing that I really wanted to buy, and I didn't. My husband reminded me I have a bodhran, an Irish drum, already at home.
I've dreamed of joining a drumming circle. I want to be a drummer. It's a form of mediation, and I'm all into contemplative practices to take me into the silence. Like my other musical forays, I could see drumming as an enjoyable past time. I'm thinking I'm pretty sure I could arrange a purchase through one of our tour guides…
But instead, I bought earrings and a brightly colored backpack and bag sporting the Kente cloth motif, albeit probably made in China, unlike the authentic African drum that I could have purchased. Oh well.
Before lunch, we visited the Kwame Nkrumah Memorial Park which celebrates Ghana's first president, Dr. Kwame Nkrumah. The museum is located on a city square, once home to a private British polo club where Africans were not allowed. The first president reclaimed this area for the people, during his time in power. As we toured the grounds, I grew in respect for this man. Groups of school children in brightly colored uniforms streamed through the park around us.
President Nkrumah attended college at the historically Black educational institution of Lincoln University in Pennsylvania. Educated there with fellow Africans, together they began dreaming and planning to lead their countries into independence. However, when he returned home, the British were still in charge. His political activities landed him in prison for organizing for change.
Nevertheless, when the British sought to elect an African to leadership, beginning some semblance of self-rule, his people nominated him, as he sat in the prison cell. Amazingly, he was elected and the British released him in 1951, cutting short his three-year sentence.
In 1957, Ghana achieved independence from Britian and Dr. Nkrumah became their first president. He resolved to lead the people into a new era. In a short period of time, he accomplished so much, establishing free public education, building infrastructure and industry, and developing health care, including construction of hospitals and clinics. A socialist by belief, he envisioned a strong country with well-educated citizens who would work hard to build a better future. His aspirations also included such development for fellow African nations, whom he assisted.
I read a book in preparation for this trip that said he became a dictator and was overthrown in a coup after almost nine years. However, our tour guide told a different story. Because he wrote a book that explained his policies, including nationalization of natural resources, this upset the corporations of the United States of America. Our guide told us that my country, the United States of America, helped finance the coup.
It's not the first time I've been ashamed of my country. When I began to be aware of the enormity of civil rights problems in college, I asked my mom to quit making me red, white and blue birthday cakes. (I was born on our Independence Day, the 4th of July). I remember visiting El Salvador in the 1980s, when I worked with Christians for Peace in El Salvador. We worked to get the word out about what was really happening in El Salvador, contrary to my government's support of right-wing death squads. The list could go on. But suffice it to say, in the USA we are taught in school we are a freedom loving people, helping free the world for democracy. So many times, that is not the truth. Our government often supports the wrong side. And when it comes to race issues, I know all too well the continuing problems in our country.
The Africans are working hard now to teach the children about the vision of their first president.  That is why there were so many school children at the museum. They work toward continued development of a well- educated Ghana with health care for all and a healthy economy.  
Later, we visited the home of W. E. Dubois, American civil rights activist, scholar/professor and prolific author, who advised President Nkrumah during his time in office. Dubois attended Clark University in Atlanta, Fisk University and obtained his doctorate from Harvard. Dubois also supported Pan-Africanism and Socialism throughout his life. He moved to Accra in his 90s to write an encyclopedia for Ghana
We finished the day, visiting the "Eiffel Tower" of Ghana, at Independence Square. At the top of the tower is the Black Star, a symbol of their independence.
Two things that I take away from this day are:
1) The incredible leadership of both President Nkrumah and W. E. Dubois. The used their education for the betterment of the people. In the Dubois house, the rooms were filled with pictures of other great people, men and women, who led their people in good ways. It makes me wonder, what more can I do for the betterment of humanity with my one life. If Dubois could move to Ghana in his nineties, what can I do in my sixties and seventies? Am I sleeping on the job?
2) The interchange of ideas among people of many countries was very evident. President Nkrumah was educated in the United States, where he connected with Africans from other countries and their cross-pollination led to independence movements across Africa. Both Nkrumah and W.E.B. Dubois traveled extensively and met and exchanged ideas with many world leaders. Martin Luther King, Jr. visited Ghana and his "I Have a Dream" speech was inspired in part by his learning from President Nkrumah. I want to continue to learn more from people of other countries, also.
The day ended with relaxation at our hotel. I am feeling so grateful for this opportunity to visit Ghana. I also am very appreciative of the Black and Abroad company that makes this learning possible.