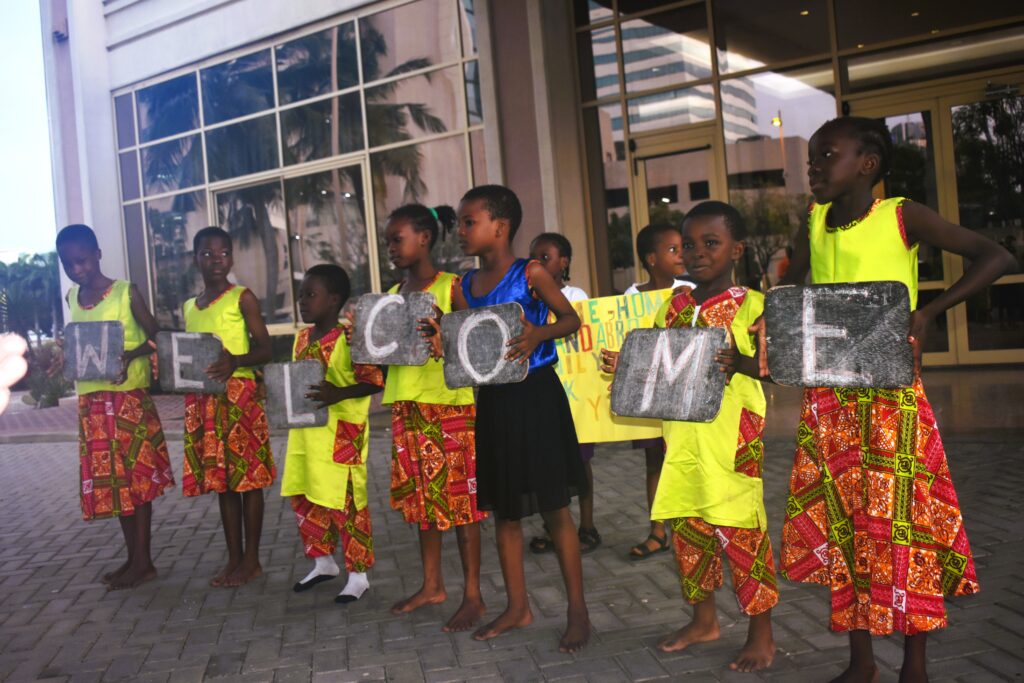 3 Nancy's African Blog: Welcome to Ghana!
From Dayton to Atlanta, from Atlanta to New York, from New York to Accra, Ghana. A smooth whirlwind, with on time aircrafts, comfortable seating and voila! we arrived halfway around the world in Africa, in less than 24 hours. Our final ten-hour flight held mostly Ghanaian nationals heading home. Other than flight attendants, my husband and I were some of the few white people on board. A couple in our tour group reported their joy to arrive at the Kotoka International Airport and see all Black bodies. They bowed down and kissed the earth. Here in Ghana, Blackness is normal, I'm the odd one out. Feeling a little conspicuous with my whiteness, given the history of European colonialism here.
However, the Ghanaians welcomed us with friendly smiles and warm greetings. We learned to say Hello in their native tongue. We checked into the five-star Movenpick Hotel in the business district of Accra by three p.m. settled into our room and by six pm we gathered in the lobby to meet our Black and Abroad tour staff and go out for our first meal together.
But first they had a surprise for us. They led us out onto a patio where brightly clad youth and a drum corps welcomed us to Ghana. The smiling young people danced, sang and spoke warm words of welcome. They danced their native dances with stomps and kicks, well synchronized and full of joy. They held up the letters of "W.E.L.C.O.M.E." and extended greeting with words starting with each letter. Later they each introduced themselves, starting with "Good Evening, Ladies and Gentlemen, my name is… and describing positive attributes about themselves. They even sang my theme song, "You are My Sunshine" as they danced. I knew I was in the right place at the right time, so blessed to be here.
After they performed with great expertise and flourish, they came out among us. A smiling young lady took me by the hand to invite me into the dance. If you know me, you know I sat there tapping my feet and longing to join, so I delightedly rose to participate. The bright girl laughed with me as I tried to imitate her steps. We danced long enough to excite my heart into happy beats. What a welcome to Ghana! Such joy.
The children led us into a circle, and then they ushered several of us into the center to shine. I was a little slow to catch on. After my turn in the center, I began to dance again. My new friend gently asked, "Do you want to dance again?" – I believe a polite and kind way of informing me to watch the others.
Later we talked to the leaders of the children and learned they are from an elementary school, grades 1-8 where they teach the students in both English and French. We are also learning that education is greatly valued in Ghana and as we travel through the city and towns, we see many signs for schools.
After our wonderful surprise, we visited Buko Resto for a family style dinner overflowing with traditional Ghanaian food. We enjoyed fried plantain, rice, chicken wings, chicken and beef kabobs, French fries, tilapia, grilled vegetables and much more, all fairly spicy and flavorful. We also became better acquainted with some of the people in our tour group over dinner. Adura, A hair stylist and her African American Studies professor husband, Keita, from Atlanta, and an IT guy, Devon, who works with a nonprofit called "Evident Change", round out our small group of seven, including my husband and I and the two other friends, Selena and Diane, from Springfield, Ohio. All amazing people who are enriching this travel experience.
We returned to the hotel by nine, five p.m. Ohio time. However, sleep came easy after limited shuteye on the overnight flight. We were thankful for our comfortable accommodations and slept rather soundly at the Hotel Motenpick.